| | | |
| --- | --- | --- |
| | Brandon's Pictures | |

My first day at home. Big brothers, Chad (6 years) & Dustin (2 years), were so proud of me.




Dustin thinks he's such a big boy because he gets to hold me. Chad is making sure he's careful.



I was just a couple of weeks old in this picture.







My Special Angel

There's a special angel in heaven
that is a part of me.
It is not where we wanted him
but where God wanted him to be.

He was here but just a moment,
like a night time shooting star,
and although he is in heaven
he isn't very far.

He touched the hearts of many
like only an angel can do.
I would've held him every minute
if the end I only knew.

So I send this special message
to the heaven up above:
"Please take care of my little angel
and send him all my love."

~ Author Unkown ~




I love to smile!



I was 4 3/4 months old here.





The things in the Cabinet Drawer

There are whips and tops and pieces of string
and shoes that no little feet ever wear;
There are bits of ribbon and broken wings
and tresses of golden hair.

There are tiny jackets that never are worn
there are toys and models of ships;
there are books and pictures all faded and torn
and marked by finger tips
of dimpled hands that have fallen to dust -
yet we strive to think that the Lord is just.

At times bitterness fills our soul;
sometimes we try to pray,
because God has spared so many flowers
and taken ours away.
And sometimes we doubt if the Lord can know
how our broken hearts did love them so.

But, when we think of our dear ones gone,
our children who never grow old,
we think of them waiting and watching for us
in the city with streets of gold;
and we know they are safe through all the years
from sickness and want and war.

Then we thank our great God, with falling tears,
for the things in the cabinet drawer.

~ Author Unknown ~



Mommie says I was standing, but I was really leaning on that big rock.
(Don't tell her, though, because she was so proud.)


I loved my "Johnny Jump-Up"!



What a "ham" I was.





This Child of Mine

"I'll lend you for a little time,
a child of Mine, He said.
For you to love while he lives,
and mourn for when he's dead.
But, will you, till I call him back
take care of him for Me?
He'll bring his charms to gladden you,
and shall his stay be brief,
you'll have his lovely memories
as solace for your grief."

"I cannot promise he will stay,
since all from earth return.
But, there are lessons taught down there
I want this child to learn.
I've looked the wide world over
in My search for teachers true.
And from the throngs that crowd life's lane,
I have selected you.
Now will you give him all your love,
not think the labor in vain,
Nor hate Me when I come to call
him back to Me again?"

I fancied that I heard us say:
"Dear Lord, Thy will be done."
For all the joy Thy child shall bring,
the risk of grief we'll run.
We'll shelter him with tenderness,
we'll love him while we may.
And, for all the happiness we've known,
forever greatful stay;
But, shall the angels call for him
much sooner than we've planned;
We'll brave the bitter grief that comes
and try to understand.

~Author Unknown~

I loved to eat teething biscuits and I could make the biggest messes with them. It was lots of fun!


This was taken on my first birthday, September 22, 1982.
Dustin's birthday. That horn looks fun. I hope I get a turn.
I'm not too sure about sitting on Santa's lap, but my brothers aren't scaired and I get a candy cane afterward!
This was Christmas Day, 1982. "Thank you, Santa!" It was just what I wanted!
This was one of the last pictures ever taken of me.

Please sign my guestbook
Please view my guestbook

| | | |
| --- | --- | --- |
| | Our Links | |
[Sharon's Place] [My Family] [My Mother] [Ryan's Bat Cave] [Ryan's Basketball Page] [Brandon's Picture Gallery] [Our Pets] [Friends] [Angels] [Great-Nieces/Nephews] [Growing Together] [Hope For Cracked Pots]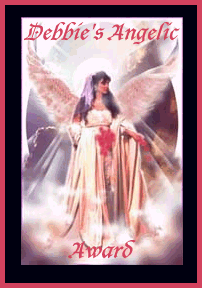 Thank you, Debbie, for this nice award.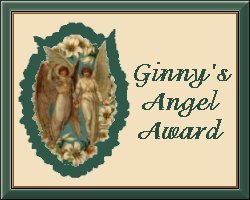 Thank you, Ginny, for this beautiful award. : )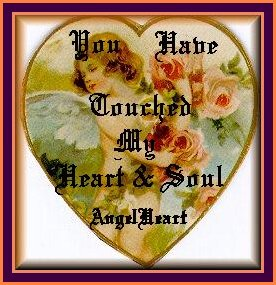 This is such a beautiful award. Thank you, Sharon. : )